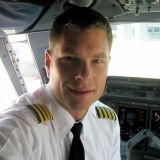 Daniel Fahl
Staff Writer
| | |
| --- | --- |
| Member since | |
| Last seen online | |
| Pilot certificate | ATP |
| Language | English (USA) |
Bio:Daniel Fahl is an airline captain and air travel columnist. Through his contributions to FlightAware and CNN.com, Daniel aims to both educate and ease the anxiety of the traveling public by making sense of the complexities of air travel. You can contact him at daniel.fahl@flightaware.com.
Did you know that FlightAware flight tracking is supported by advertising?
You can help us keep FlightAware free by allowing ads from FlightAware.com. We work hard to keep our advertising relevant and unobtrusive to create a great experience. It's quick and easy to
whitelist ads
on FlightAware or please consider our
premium accounts
.